O espaço ideal para ficar a par das últimas tendências de moda. Glamour, bom gosto e requinte num conjunto de peças pensadas para a mulher cosmopolita e num look fashion. Acompanhe as tendências da Moda 2018 / 2019 sejam em vestidos de cerimónia, casacos ou calças com a qualidade desta loja de referencia em Oeiras.
A loja BeFaith é uma Loja de roupa de senhora localizada em #Oeiras e que representa o melhor que se faz em roupa feminina e acessórios.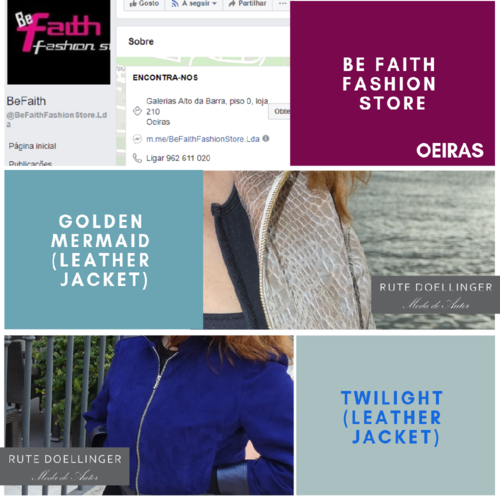 A Be Faith além de comercializar marcas internacionais como a Denny Rose, Lariga, Sienna Bee, calçado Schutz entre muitos outros, aposta também na Moda de Autor nacional e de criadoras Portuguesas.
A estilista Rute Doellinger está presente na loja com algumas das peças da nova coleção  FALL WINTER (FW) 18 / 19 com a inspiração à flor da pele também baseada na pele e inspirada em tecidos invulgares, exclusivos e de qualidade estão também presentes e com orgulho na loja Be Faith FashionStore.
Todos as peles e tecidos foram seleccionados no mercado tradicional de Lisboa. As várias peças foram rigorosamente escolhidas para fazer parte da coleção e da exclusividade de cada vestido, casaco e acessórios que fazem parte da coleção.
A BeFaithFashionStore.Lda é também um sucesso nas redes sociais.
Com mais de 18 500 seguidores no Facebook, a BeFaith é um espaço moderno e sofisticado sendo esta uma das muitas criticas positivas a esta loja de Oeiras.
https://www.facebook.com/BeFaithFashionStore.Lda
Pode visitar a BeFaith nas Galerias Alto da Barra, piso 0, loja 210 em Oeiras perto das piscinas da Inatel.
❤️ Work with Lo❤ve